A+D Partner Spotlight: LPA, an Interview with Rick D'Amato
Featured
A+D Partner Spotlight: LPA, an Interview with Rick D'Amato
Award-winning Architect and AIA Fellow, Rick D'Amato, sat down with us to discuss his passion for interiors, his approach to design, and his love of all things food and travel.
1. Tell me about your path into architecture and design.
I have always been fascinated by design and architecture, even from a very young age. It started when I was 6 years old, and my teacher asked me to write a paper on what I wanted to be when I grew up. At the time, I wanted to be a construction worker. My teacher took us to the library and taught us how to use the encyclopedia and I couldn't find much information on construction workers, so she told me to explore architecture. And, the rest is history. I followed that path through the University of Arizona where I received my Bachelor of Architecture to today, where I am the Principal and Workplace Director for LPA overseeing six locations. I just celebrated 36 years here.
2. Wow, I haven't met many people know their paths from such a young age. And congrats on 36 years, that is quite the milestone!
I tend to notice many people in field learn their path from a young age. Once I had learned about architecture as a child, it totally opened my eyes to the world of design, and I quickly became very interested. As a kid, my parents used to travel frequently, and we often stayed at hotels. I would find myself wandering about, studying the hotel's design choices, and daydreaming about how I could make the space better. So much so, that I began building cardboard models of the spaces complete with floorplans. I started out with scissors and tape to form buildings, and eventually they turned into cities using xacto knives and glue. I would tear out pages in magazines and use the textures as inspiration. In fact, right after I graduated from school, I borrowed my parents' poker table and created an entire small island. The island was called Gilbea, named after my parents, Gilbert and Beatrice. It was complete with a town, a street fair, businesses and even "coming soon" signs. It was one of the most elaborate things I have ever built.
3. Your true passion for design and architecture is apparent and it's great that you get to be in a field that you love. What is your favorite part of the design process?
I love conceptual design, space planning and ideation. It's a complex puzzle that needs to be solved, and I enjoy pondering how all the different pieces will fit together. I also like learning about each individual client's parameters and constrains, it helps me decide on the design direction. The more complex and difficult and big, the better. I am always thinking of design in terms of that third dimension and the human experience.
4. What does third dimension mean for people who may not know?
It's how the user moves through the space, how it smells, how it feels. It's about actually molding space and creating complete environments - taking things beyond the sketched floorplan and clearly understanding how the space will be experienced. For me, this is the key to good design.
5. If you could change something about the industry, what would it be?
Value engineering. I am not sure what I would do if a client would build something exactly as I have designed it (laughing). In design, it always comes down to budget and there is always a sacrifice that must be made. I can work within budgets and design to a budget. It is the value engineering that comes at the end of the process that I find frustrating. It has caused me at times to be constrained in the initial design phases with the anticipation of being asked to value engineer the solution in the end. I thrive on feedback, criticism, and constructive feedback, but end of game budget cuts can be crushing. I'm sure you understand this (laughing).

6. Is there a project you are most proud of?
I have several, but there are two that immediately come to mind. The first one is the Michelle Obama Branch Library in Long Beach, which opened to the public in September 2016. I used to do a lot of libraries and city halls, and it is always a very special feeling being at the grand opening when you see the kids in line at the door. This project was even more special though, because of the level of community involvement. The library was built in North Long Beach which had not had any new public buildings built for almost 25 years. The goal was to instill a sense of civic pride in the community as well as the neighborhood. They had a relatively low budget, and when we were first awarded this project, I wanted to approach the design by understanding what was so unique about this part of the city and how that could be expressed in this building. We discovered that teens were very disengaged in this area, and we wanted to create a safe place for them to come together, so we created a vibrant teen center as well as a maker space. There was also a historic light tower that was an integral part of the original theater that stood on the site. They wanted to keep it in its original position but restore it while integrating it into the design.. The reconstructed tower was maintained as the focal point of the community and designates the children's reading room of the library. This library not only represented a positive change for this community, but also a shift in the design and purpose of libraries. It was unnamed while I was working on it, and they named it the Michelle Obama Branch Library upon completion. I was very close to meeting her, but unfortunately covid struck and changed plans. It was a great honor that they named it after her, I am a huge fan. It was recently named the best library in Long Beach, by longbeachkids.com which was a very proud moment.

7. That is amazing! I can hear you beaming with pride as you talk about this project. You mentioned a second project?
It was very special indeed. The second project is the West Hollywood Aquatic and Recreation Center (ARC). This was a project that was truly defined by community involvement. As a competition, there was no engagement with the client initially. Working with the City a few times prior to this competition, we understood the importance of community engagement. Taking matters into our own hands we set up on a bench in the park and asked the opinions of park goers about what they might want to see in a new recreation center. One of our interviews was an amazing woman who went on to become the City Mayor, Lauren Meister. This was one of those rare project concepts that literally came to me in a dream. I always keep a notepad by my bedside at night in case a thought comes to me and one night, I woke up in the middle of the night and scribbled "Big Stair." The idea stuck with me and morphed into a design that focused around a grand public stair that engaged the park goers with the aquatics center 65' above the park. It has become a gathering spot for both public and private events. The project interviews were open to the public as well as our formidable competition which was a bit stressful. Ultimately, we won both the popular and the administrative vote. The project was an 8-year process from start to recent completion . It was a wonderful, albeit sometimes bumpy ride and definitely a standout in my career. It has already garnered multiple design and environmental awards.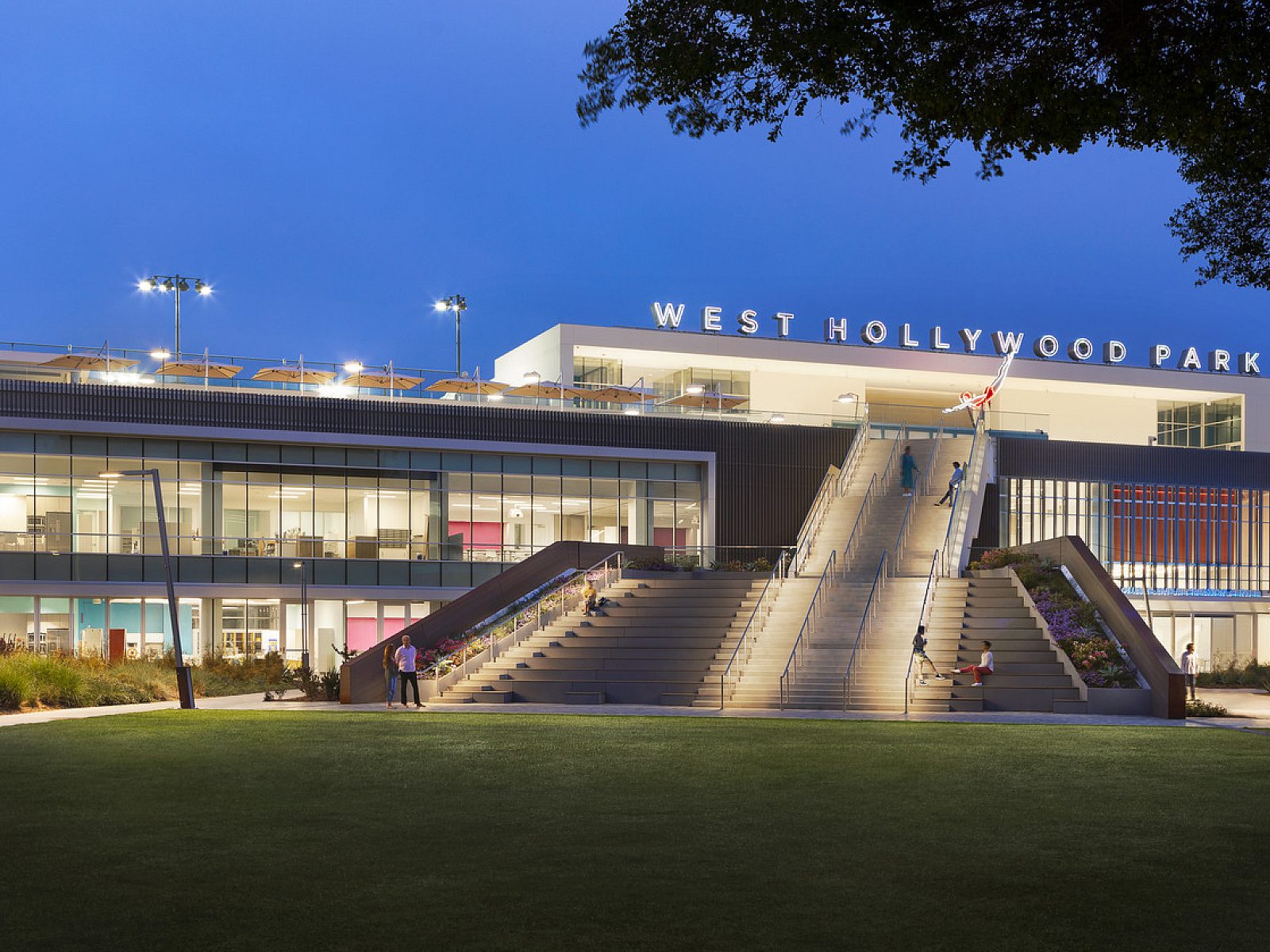 8. Your approach to design is very inspired. How and when do you feel most creative?
I'm a bit of an insomniac. If I can help it, I prefer to not sleep 8 hours in a row, but rather break up my sleep how and when I can until I feel rested. I tend to feel most creative in the wee hours of the morning, or in the evening. Funny enough, I feel least creative during the "meat" of the day. I also enjoy jotting my ideas down on paper and writing whenever I can.
9. I heard you have a background in disco dancing…can you tell me a little bit about that?
Oh yes, my disco dancing days (laughing). I was a competitive disco dancer when I was in high school and college and I actually won a few contests including one at the AIA Annual Conference. I competed up through my mid-twenties when disco was long dead. Did I just age myself? (laughing)
10. I think we need to see photos of this! Do you have a favorite piece of furniture that you own?
I have a chair that is very special to me. My best friend works at a consignment store in Costa Mesa and years ago, she had a man who walked in with a chair that he was adamant be sold to the right person. She called me up immediately. This chair turned out to be a prototype that Frank Lloyd Wright had designed and hand-built back when he was designing the Imperial Hotel. Eventually, he planned on getting rid of it and his landscape architect expressed interest in taking it. That landscape architect is the man who sold me the chair. He sat in that chair every day to read the newspaper and wanted to ensure that is was well-used and appreciated by its next owner. We became very close friends for a short time, up until his passing. This chair is very special to me and something that I will keep and cherish forever.
11. Beverage of choice?

Tito's and soda with a twist or a good Tempranillo, depending on my mood. I also love an Albariño and was fortunate to go to the Albariño region in Spain to try some of the best.
12. That's awesome. I'd like to visit Spain someday. Any favorite travel destinations?
I love to travel, so this is a difficult question for me to answer. I always feel drawn to Mexico – specifically Guanajuato. There is just something very authentic and captivating about it. It's a feeling I don't get any other place, and I don't quite know how to explain it. Another place that I like to visit is the Philippines. In particular, El Nido which is a municipality on Palawan Island. My father lives in the Philippines with his wife so we have visited quite often. My father lives in Angeles City, which is on another island, but we always try to venture out and explore other islands when we visit. El Nido is stunning, one of the most – if not the most - breathtakingly beautiful places I have ever visited.
13. Those places sound wonderful. What do you enjoy doing in your free time?
I am a huge foodie, so I love exploring new restaurants. Sometimes, I base my travel on the types of food I want to eat, or restaurants I want to go to. I recently went to Puerto Rico where I had one of my most incredible dining experiences, ever. The restaurant is called Portela by Orujo, and the chef studied and taught at Le Cordon Bleu. His dream was to develop an experiential dining experience. It's a tiny restaurant with only six tables and you must book months in advance. We had an 18-course meal paired with wine over four hours and got to hang out with the chef and talk over a glass of his favorite brandy afterwards. Puerto Rico is exploding onto the food scene right now. I have a few favorite restaurants there.

14. Do you have a favorite local spot?
I tend to like more hole in the wall type spots or pop-up experiences the best. There is a new restaurant in Long Beach called Cali Chilli which bills itself as an unauthentic Indian restaurant. It's owned by Micheline Star chef Mural Manjunath. Its crazy good. A couple other favorites are Red Bird and Abernathy's in Los Angeles. Abernathy's is a pop-up restaurant which changes chefs every 4 month. Very inventive and always new. I love that.
15. The way you describe things – I feel like I am there (laughing). Ok let's wrap this up with one more question. What is one thing people might be surprised to learn about you – outside of everything that we are already surprised about?
A fun fact I don't typically like to share is that I was once almost famous! Kidding, but I was on HGTV in the early days, about 15 years ago. The show was called "Outer Spaces" and it was hosted by Susie Coelho. It was a show where a couple surprises their significant other with a backyard makeover. I filmed six episodes, but only four aired due to production issues. It was a relatively low budget show, but that's what made it so much fun in a way. I was swinging hammers with one hand and designing with the other. Great party stories.