Office Design Strategies For A Positive Workplace Culture
Workplace Knowledge
Office Design Strategies For A Positive Workplace Culture
Duda|Paine's Jane Bamford and Jeff Paine explore creating a positive workplace culture that will attract recruits and retain existing employees.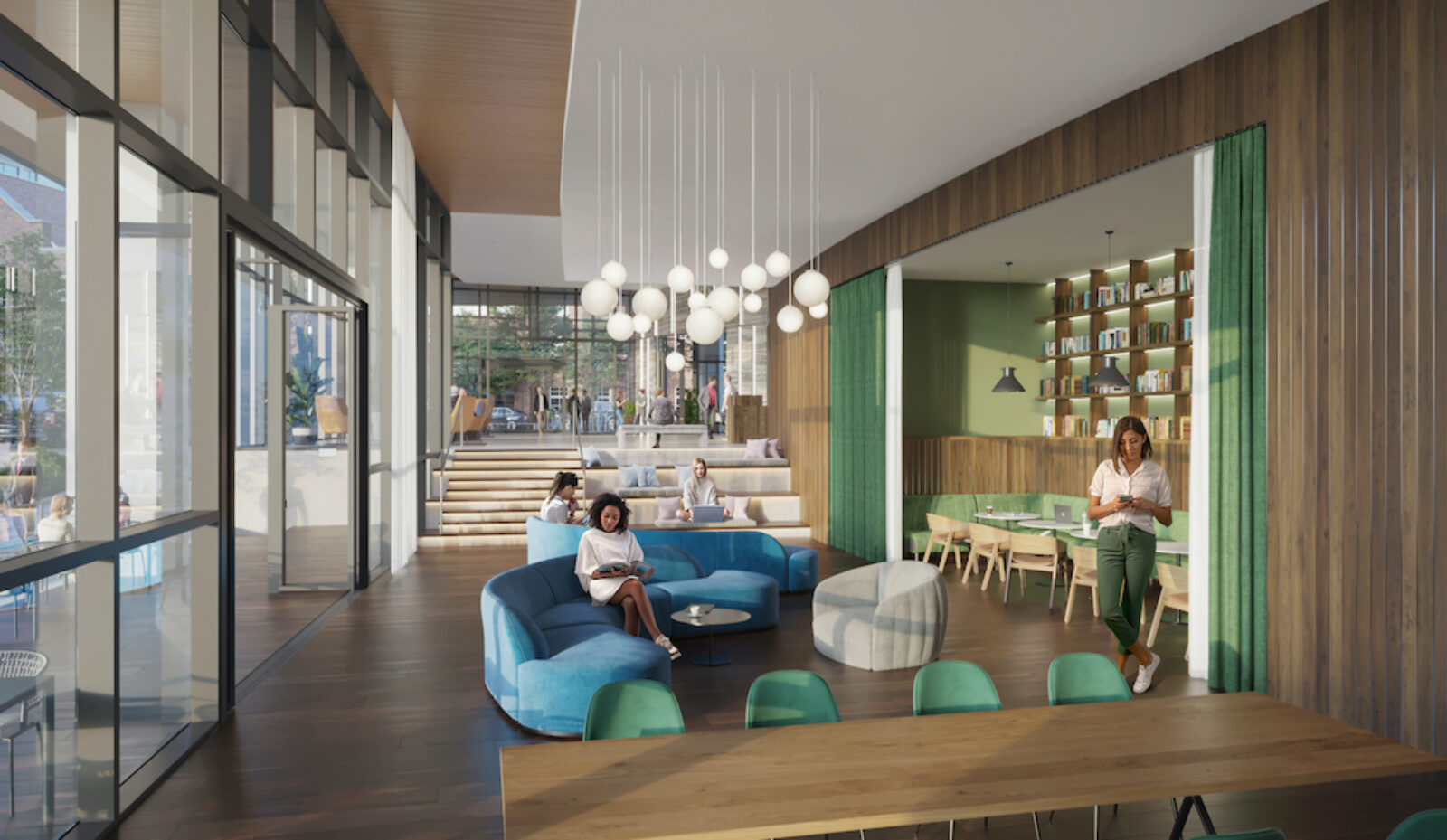 Architects and designers are finding a client's organizational culture is a critical consideration in designing their new workplace. Most office environments are built around functional concerns like employee performance, ergonomics, circulation, and supporting productivity. In response to an increased awareness of the workplace's impact on mental and physical health, companies now recognize more than ever that creating a positive work environment can enhance their culture, attract recruits and retain existing employees.
Destination Building
Attracting and retaining workers is about more than compensation and benefits. According to a recent study from Glassdoor, 77 percent of respondents consider a company's culture before applying for a new job. A critical goal of workplace design is to physically incorporate that culture, values, and behaviors into the work environment to better support positive employee/employer interactions and experiences.
Whole-staff events have become increasingly critical with many companies adding hybrid and work-from-home policies. Having a space large enough to regularly bring all employees together can build excitement among staff. Large group space options can transform "going to the office" into an event that strengthens culture, promotes shared goals, and builds team spirit.
A positive carryover of the "work-from-home" demands of the last few years is that office amenity spaces are becoming increasingly like residential living rooms. Comfortable and adaptable furnishings and lighting provide workers with places to unwind and interact with one another. At 301 Hillsborough at Raleigh Crossing, an amenity level with an adjoining terrace serves office tenants throughout the building. Employees can take advantage of this flexible space as an alternative place to work, exercise, or host gatherings for small and large groups. At Stratus Midtown in Atlanta, an expansive sky lobby and shared conference spaces offer access to a landscaped outdoor terrace. The building's lobby extends along Crescent Avenue with an inviting lounge-like space known as "the library," where employees can focus and unwind, or companies can hold private gatherings to bring teams together.
Flexible Workspace
Adaptable, multi-function spaces support positive workplace experiences because they show an organization's values and trust their employees to determine their own best way of working. Robust technological infrastructure and systems that allow mobility reinforce this idea and advance productivity. Outdoor workspaces with shading, greenery and moveable tables and chairs facilitate optimal flexibility for variously sized meetings. Cafes and kitchens operate as touchdown spaces and show employees they've joined a workplace culture founded in convenience that also encourages interaction between staff members.
The RTI International Headquarters in Research Triangle Park hosts a variety of collaboration spaces for colleagues, visitors, and business and university research partners. Most public areas—the ground floor and second level—allow for impromptu encounters between colleagues and visitors. A large cafeteria and adjacent coffee bar feature diverse seating zones, including booths, lounge seating, and small and large tables for collective and individual dining as well as outdoor garden spots.
The second-floor collaboration area and conference level can accommodate one person at high-top tables or in seating pods, small and medium groups in various conference rooms, and up to 300 people in an adaptable, multipurpose space. These areas are open to everyone on campus, bringing together RTI's workforce for exchanging ideas and socializing. Giving staff the option to switch between collaborative and individualized work modes allows for meaningful idea-sharing and better productivity while building culture, respecting individual work needs, and fostering a sense of trust.
Places to See and Be Seen
Showcasing a company's culture and innovations along a central feature wall or in a lobby exhibition space introduces visitors and potential new hires to a workplace culture the moment they step inside. RTI's mission is to improve the human condition by turning knowledge into practice. An impact display area on the ground level featuring various digital technologies brings into the spotlight the institute's staff and stories for everyone who visits the building.
These strategies work together with health and wellness features like ample daylight for better visibility, increased views and access to the outdoors to replace the cubicles of the past and offer employees brighter, cheerier and more exciting places to work.