Our Top 20 Cozy Office Lounge Chairs of 2021
Products
Our Top 20 Cozy Office Lounge Chairs of 2021
Cooler weather calls for cozy lounge chairs! We've compiled a list of our favorite lounge pieces - for the office or home.

With elevated silhouettes and thoughtful designs, lounge chairs are the perfect place to cozy up to a good book with a cup of hot cocoa, watch your favorite tv show, or snooze under a soft throw blanket. While a good lounge chair will be comfortable, the perfect lounge chair will also enhance your space and decor. You could say the lounge chair is the evolutionary high point of sitting down. Whether you are looking for a place to relax, or simply a stylish accent piece to spruce up your space, we've got you covered. Check out our favorite lounge chairs of 2021 below.

1. Herman Miller Striad
Inspired by the construction of high-performance ski boots, Stuttgart-based designers Markus Jehs and Jürgen Laub designed the Striad Lounge Chair and Ottoman in layers to deliver a premium experience of comfort. The outermost layer, a rigid shell, is merged with an inner shell constructed of a natural fiber composite material, which is then fully upholstered. Individually upholstered dual-density foam cushions form the third layer, resulting in an optimal combination of firm support and supple, pliable comfort. Offered in low-, mid-, or high-back versions, each with a choice of a four-star auto-return base or fixed four-leg wire base—as well as a variety of finish and upholstery options—Striad can be outfitted appropriately for a multitude of spaces.
2. HAY About a Lounge
About A Lounge Chair expresses both openness and intimacy. Available in low- or high-backed versions with many unique configurations, Hee Welling's sculpted design is intentionally simple and infinitely versatile. Paired with the matching About An Ottoman or on its own, the About A Lounge Chair exudes warmth and invites repose and conversation.
3. Geiger Crosshatch
Using a minimum of materials in a maximally inventive way, the Crosshatch Chair and Ottoman employ both handcraft and technology to achieve alluringly refined results. Designed by EOOS, the Vienna-based studio that has received more than 70 international awards, including the coveted Italian Compasso d'Oro, the Crosshatch Chair is lightweight and transparent, extremely easy to pull up for a desk-side chat, or, when paired with the ottoman, to relax around a cocktail table.
4. Naughtone Hush
The high-back Hush Chair brings the classic wing-back chair style into contemporary settings, where its wrap-around backrest provides a sense of privacy. A low-back version is also available. Both models are designed for comfort as well as customization, with a supportive, upright seating position and wide variety of available upholstery options.
5. Magis Officina
The pillow-like cushions of the Magis Officina Armchair and Ottoman present an intriguing visual contrast to the minimal frames of welded iron rods. The wrought-iron structure, with slight imperfections characteristic of artisanal forging, is available in galvanized finish or painted black. Cushions come in a variety of luxurious textiles.
6. OFS Lona
In response to the contrast we experience every day between the routine and the new, we introduced Lona. Like the flexible mindset required to navigate challenges, even in the tasks we know, Lona balances familiarity and learning. Lona's crisp lines and organic textures make it an adaptable option for a variety of settings, providing both a sense of home and preparedness for what comes next.
7. National Idara
Idara's notable contours and sweeping curves offer an eccentric mix of drama, opulence, and relaxation. With mid- and high-back options, its charming yet seductive arm composition and indulgent wingback detail create a curious harmony of vintage style and contemporary glamour.
8. Arcadia Nios
Embracing the casual meeting concept, as well as the traditional notion of waiting or purely getting quality time alone, Nios is a captivating presence and a destination worth reaching. An artistic silhouette, together with a signature metal accent featured between the seat and back are but a few of its defining qualities, while book rack and rotating tablet accessory options add both functionality and versatility. A figure of beauty, Nios serves all purposes in comfort for today's ever-changing environments.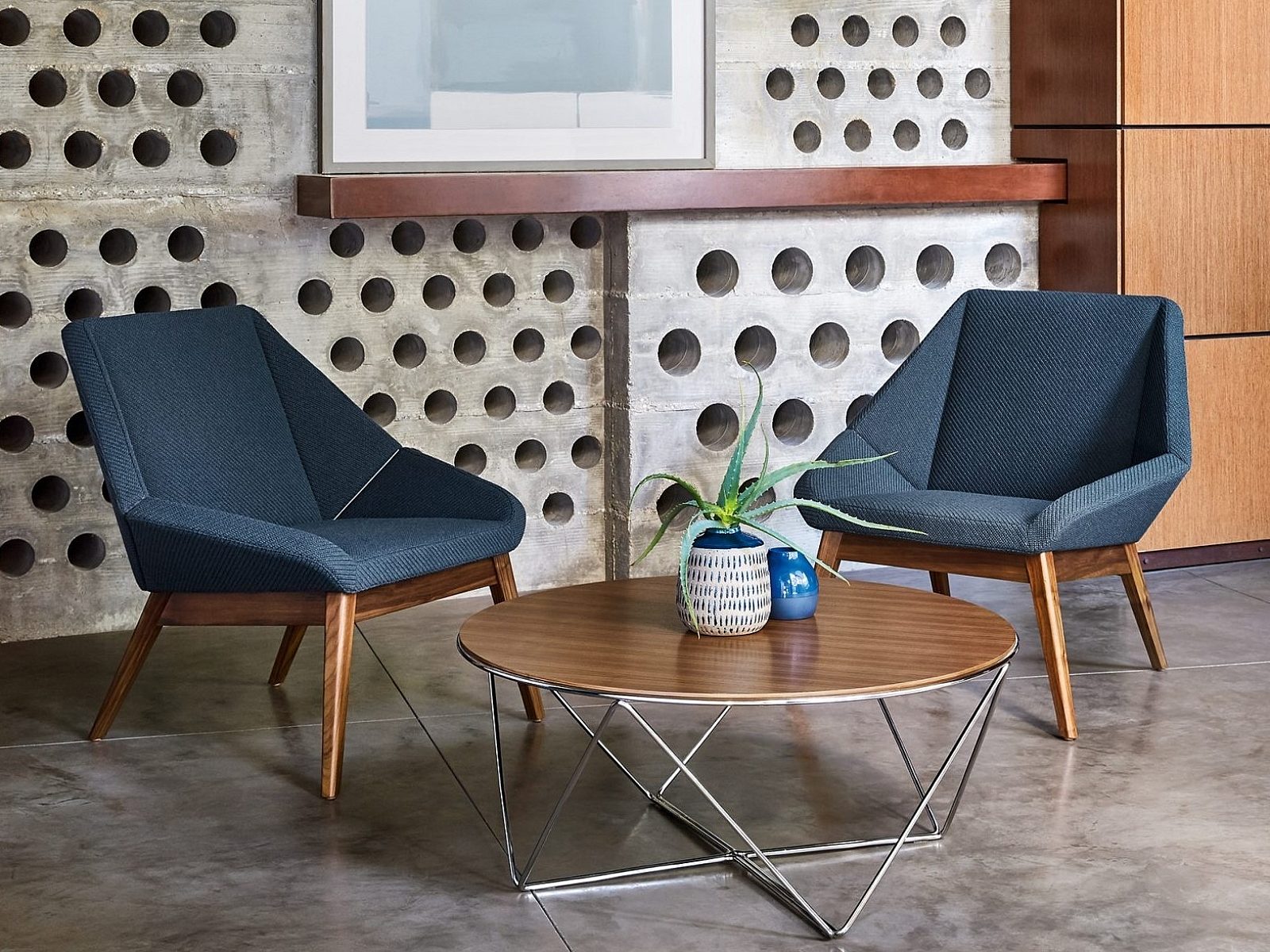 9. Hightower Gimble Rocker
It is said that a body in motion stays in motion. In the case of Gimbal, a body in motion might stay at rest just a little while longer. Designed by San Francisco-based, Most Modest, the Gimbal Lounge Rocker was built with just enough movement to expel energy, allowing for a longer duration of sit.
10. Sossego Lupita
Marked by smooth curves, the sculptural forms invite casual conversation or quiet relaxation. "Guadalupe" is the name of Aristeu's littlest granddaughter, whose nickname is "Lupita." Modern lounge chair by Aristeu Pires hand finished in sustainably harvested Brazilian hardwood. Upholstered in leather, fabric, or COM/COL.
11. Design Within Reach Kapsel
For her first sofa collection exclusive to DWR, Danish designer Chris Halstrøm started with one goal: Create a big, soft piece to really relax in. With the Kapsel Armchair (2021), she achieved just that. Piled with plush, oversized cushions, Kapsel is an inviting, cozy spot for any lounging position: curling up, leaning back, or stretching out for an afternoon nap. Its sumptuous cushions are nested within a sleek wraparound wood frame for a beautiful contrast of hard and soft – a detail that makes Kapsel look good from any angle. Assembled in U.S.A. with domestic and imported parts.
12. Gubi Pacha
Curvaceous, soft, and low-slung, the Pacha Lounge Chair is a joyfully modernist creation that embraces both extreme comfort and effortless versatility. Iconic designer Pierre Paulin's vision was to create a sensation of 'sitting on clouds'. A little ahead of its time in 1975, the modular Pacha Collection is finally coming into its own today. Paulin's vision of sitting in an entire cloud formation is made possible by the many modular combinations available.

13. Knoll Studio Womb
Eero Saarinen designed the groundbreaking Womb Chair at Florence Knoll's request for "a chair that was like a basket full of pillows - something she could really curl up in." This mid-century classic supports countless positions and offers a comforting oasis of calm—hence the name.
14. Bernhardt Becca
Inspired by his wife Rebecca, Terry Crews' Becca Sofa is both modern and sumptuous. Intended to dispel any myths about modern design being only hard or angular, Crews designed the Becca collection to be curvaceous and unapologetically feminine. The collection, to quote Architectural Digest, is "a love letter to his wife."
15. Arper Kata
Lightweight in form and environmental footprint, Kata is designed with circular sustainability at its core. Arper's first solid wood lounge chair, Kata takes inspiration from artisan-made wood and woven straw chairs and reimagines the near-universal typology using contemporary, sustainable solutions in an expression that is both graphic and warm. Kata finds form in juxtaposition - an evocative gesture in the movement between material presence and minimal silhouette, softness and strength, tradition and technology.
16. Source Laze
While the relaxed back angle evokes comfort, Laze is a meeting chair. At home around a low coffee table, its strong frame lets users perch near the front edge of the seat and hold a meeting in an active, upright posture. Laze delights in its artful form, bringing both utility and style to casual meeting and working spaces across every sector—lobbies and private offices in corporate, hospitality, and education settings. The sled frame or stationary four-blade base can be specified in stainless steel for ultimate durability or powder-coated steel with a variety of finish options. Laze brings classic modern style, for an elegant, comfortable, and a distinct, new option in the free-standing lounge category.
17. Davis Cova
Cushions filled with down and foam are meticulously designed with segmented compartments to prevent the migration of the materials. Each segmented portion of the seat is designed specifically to correspond with the individual parts of the body for ideal seating comfort. This lounge chair is constructed with a fully upholstered shell for a sleek look. Cova includes an optional footrest with the same luxurious cushions for ideal comfort.
18. Andreu World Capri
Carpi is a "unique" armchair, which offers extraordinary ergonomics. It consists of armchairs with upholstered seat and backrest, available inversion with arms, or armless. It is presented with base options off our-star central aluminum base with swivel and self-return system and steel rod sled base. It is also available with an upholstered footrest.
19. Encore Melina
With a nod to mid-century modern design, the Melina lounge is defined by elegant, clean lines and well-crafted details that elevate the ambiance of any interior. Its striking angular form is softened by tailored upholstery and complemented by finishes that add refinement and balance while accompanying guest seating and tables add continuity throughout the line.
20. Herman Miller Eames Lounge
I mean...did you really think we'd leave this one off of the list?