The Escape From The Home Office
Workplace Knowledge
The Escape From The Home Office
The glamour of full-time working from home is wearing off and people are seeking a space to collaborate with peers in person.
Office culture has been around for years. Cubicles, coffee mugs, and printer paper are just some things that are commonly thought of when thinking about offices. However, we are starting to see a shift from the more traditional, individualized workspaces to offices that foster hospitality and collaboration. In early 2020 at the outset of the COVID-19 pandemic, many people packed up their office desks and started working from home. As a result, workplaces have started to change.

Since there are fewer people working in offices every day, companies are starting to downsize their space. Health and safety precautions have been implemented into workspaces to allow people to feel safe and comfortable as they work. What's more, office amenities like open meeting spaces, collaboration rooms, wellness areas, individual focus rooms, fitness centers, café-style break rooms, and multipurpose rooms are on the rise. Now more than ever, there is a strong correlation between hospitality, wellness, and the workplace.
A historical perspective
There has always been a tie-in between hospitality and the workplace. Office spaces were designed with amenities like break rooms in mind and considered ergonomics for worker comfort. Workspaces were individualized and created a sense of separation amongst coworkers. Cubicles were the norm and only a small portion of offices was dedicated to teamwork.
Historically, individualized offices were reserved for higher-up staff members. In the last decade, that started to change with the introduction of open concepts and hoteling spaces. Today, the choice has become a major focus for offices, providing a combination of open space with a variety of posture choices. These include traditional cubicles, individual focus rooms, small huddle spaces, sofa/bench-style seating, and large worktables. The correlation of hospitality in the past has been to have the traditional cubicles and offices and then provide a few amenities, like a fitness center or break area. The focus now is steering towards the less dedicated office and cubicle space and more variety.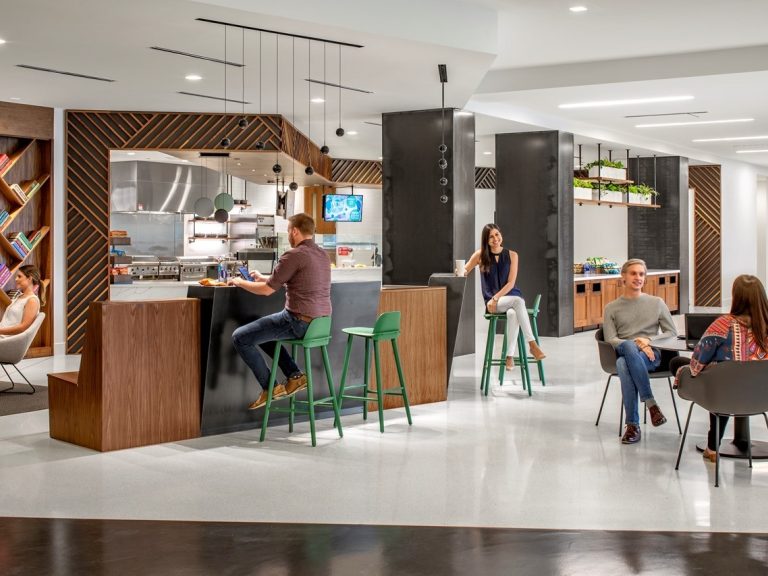 What clients are asking for today
Recently, clients have been wanting more. We have seen an increase in desire for larger break rooms, collaboration rooms, fitness areas, and even gaming rooms. Clients tend to prefer the coffee-shop style, in which employees can break away from a conference room or cubicle and be in a more open area. These spaces can include outdoor patios and open-air spaces that have more of a hospitality feel.
Larger gathering spaces are becoming increasingly popular as well. However, since the start of the pandemic, we have seen clients' wants change once again. Since a drastic amount of people left the office to work at home, clients have been looking to downsize office space. Many offices have not returned to full capacity since the start of the pandemic, and many may never again. People are finding a balance between working from home and working from an office. Recently we have seen people visit the office a couple of times a week to participate in collaborative efforts while working from home on the other days.
As a result, we've noticed a shift in the needs within offices. More people are looking for multipurpose spaces that can easily transition from a gathering space to a training room, for example. We're also seeing a demand for spaces that office staff can open up for large gatherings or divide off for smaller meeting spaces, much like hospitality spaces for banquets and conferences. Providing these options and choices of flexible space and amenities gives employees more reasons to want to come into the office.
The future of office hospitality
Looking to the future, the correlation between office spaces and hospitality will only get stronger. Private office spaces dedicated to only one person are most likely going to dwindle. Focus rooms, break rooms, wellness areas, and open spaces will replace the individualized office design. Flex rooms, or rooms that have an open concept and can serve many different purposes, will become popular too. Health and wellness will also be a priority in future offices. There will be more areas for quiet space and fitness amenities.
A transition from classic office buildings to more progressive buildings may include the incorporation of on-site fresh food or even food truck parking. For our work on The Tennyson, a Class A office campus in Plano, Texas, our team designed a canopy-covered outdoor seating area and a container bar with food trucks, as well as an indoor café that serves healthy, local food. These spaces give employees a place where they can gather, socialize, and relax.
We also may start to see biophilic designs used more often in office spaces. Biophilic design refers to the human desire to be connected to nature. It is incorporated into office spaces by using the natural environment to enhance the area. The benefits of this design are that it can increase creativity, performance, and productivity within a workspace.
As we enter a new era of work being done both at home and in the office, individuals will have to find a balance of what works for them. Offices may become a place to collaborate with your team while individual work may be left to do while working from home. Rather than coming in every day, people may only come for specific activities and meetings throughout the week. Clients are analyzing what is necessary and what is not necessary for a workspace. Increasing hospitality in offices seems to be an emerging trend that benefits those who will decide to work in-office.
This article was originally published on Work Design Magazine and can be seen here.