Corporate Moving Services Riverside
G|M Business Interiors has been moving and relocating corporate offices in Riverside for more than 40 years. Our years of experience means we know how to offer a seamless process for every aspect of corporate moving needs, from careful disassembly, wrapping, and blanketing, to transporting heavy office furniture.
Riverside Corporate Moving Services
G|M Business Interiors has been moving and relocating corporate offices in Riverside for more than 40 years. Our years of experience means we know how to offer a seamless process for every aspect of corporate moving needs, from careful disassembly, wrapping, and blanketing, to transporting heavy office furniture.

When you choose G|M, you can expect your relocation to be streamlined, minimizing worker downtime and preventing any loss of belongings, however small. That's how we can offer full-value protection for your corporate moving project.

Because G|M is vertically integrated, we closely control every step of the moving project, ensuring our clients' corporate moves are precisely executed, whatever their company size is. G|M can even help with moving your Riverside offices over long distances.

G|M's proprietary corporate moving process means we can better coordinate your office assets and moving project logistics, along with keeping you informed every step of the way. Discover why our corporate relocation services are ranked highest among Riverside corporate relocation companies and help your employees stay focused on growing your business and minimizing lost production time.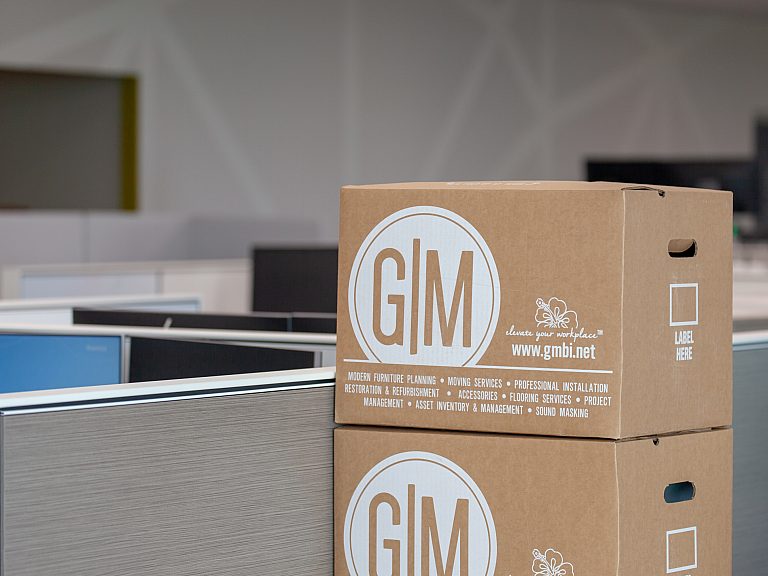 Corporate Office Moves, Adds + Changes In Riverside
G|M offers corporate moving services in Riverside and beyond. Our expert commercial moving teams make it easy to move, add, and make changes to your office. Whether you need complete packing services, shipment protection, cleaning, organizing, delivery, or storage services, we have your company covered!
G|M is Riverside's premier corporate moving company, with a longstanding reputation for always delivering accurate relocation services on-time, whether local, long-distance, or for storage solutions.
The Premier Riverside Corporate Office Relocation Company
G|M is a full-service corporate relocation manager with expertise ranging from innovative design services to relocating entire office atmospheres through our cutting-edge asset management and moving systems.
By delivering tailored corporate relocation solutions, we provide a seamless move of your company's equipment and brand aesthetic. We accomplish this by combining the experience of our experts in workplace strategy, design, product sourcing, and procurement, along with project management and office furniture installation.
We're not only a Riverside corporate moving company—we provide storage solutions for companies in Riverside as well. With G|M, every facet of your corporate moving needs is covered.
Riverside Office Space Planning and Design
G|M Office Space Planning and Design in Riverside provides premium consulting services to help you perfectly align your new company location with your growing team's needs, all while elevating your organization's image and desirability to top talent.
Our vertically-integrated relocation services approach helps maintain your team's productivity by providing a less disruptive workplace move. We excel at reimagining existing office environments to create a customized strategy for employee relocation projects in Riverside and beyond.
Exceptional Riverside Business Asset Management
G|M's proprietary asset management program, eAssets, is your inventory management and eProcurement system. eAssets provides vital asset information for today's efficiency-focused companies. This intel empowers you to make informed, proactive decisions about the status and implementation of every category of office assets.
Our accurate bar-coded asset management system helps collect, maintain, and report up to the minute, error-free data, greatly increasing the speed and accuracy of inventory data collection for on-demand answers wherever you are.
Relocating To Riverside From Another City? We Make It Simple!
With locations in Riverside, Irvine, and San Diego, we not only serve Southern California but also provide corporate moving services outside of the state.
G|M is a member of the Herman Miller Certified Dealer Network, a global network of certified Herman Miller dealers spanning over 100 cities worldwide, enabling us to work closely with dealers worldwide for a seamless transition.
Our services can coordinate with the Herman Miller Certified Dealer Network for seamless corporate Moves, Adds, and Changes (MAC) services.
Riverside MAC Project Manager Assignment
You'll be assigned a MAC Project Manager to handle every part of your Riverside business moves, additions, and changes needs, along with coordinating your teams and our moving professionals.

Our MAC and Client Services Staff are available 24/7 to be dispatched to your location for both emergency and non-emergency moves, additions, and changes needs.

Our Riverside MAC Services Team is qualified to reconfigure ALL types of furniture and manufacturers' products. G|M also features FERC (Federal Energy Regulatory Commission) trained MAC Members for our Energy partners.
MAC SERVICES PROJECT CYCLE
Pre-move Meeting
Before your Riverside corporate relocation, our team conducts a pre-move meeting with you. During the meeting, we'll review and confirm the inventory to be packed and moved. We'll also address any concerns you may have to reduce needless delays or confusion.
Supply Drop Packing Services
G|M helps with the difficult physical aspects of moving—the heavy lifting and carrying, the loading, and the unloading. But we provide supply-drop partial packing services as well. We carefully pack up your smaller belongings for the most efficient move.
IT Breakdown for Corporate Moving in Riverside
G|M can help with breaking down what is to be moved to or from your Riverside office, including any electronics. As an IT solution provider and Riverside corporate relocation manager, we can even buy your used servers that are no longer supported by their manufacturers.
Moving Day
G|M removes all the moving day stress, handling your every corporate relocation and moving need, from neatly packing desk trinkets to loading heavy file cabinets. Rather than doing the time-consuming packing and laborious heavy lifting, your team is free to focus on building your business.
Post-Move IT Hookup
We can handle every aspect of your Riverside office equipment packing and unpacking. Our IT team will inspect and fix any issues with the new office space systems, including internet hookup and computer configurations, reducing your overall moving time.
Post-Move Cleanup
At G|M, we understand how time-consuming moving corporate locations can be, so our Post Move Cleanup services help cut this time by taking care of the tidying up. Our skilled cleaning professionals thoroughly clean offices so our clients' teams are energized as soon as they step through the door.
SEE OUR DEDICATED MAC TEAM HERE